Standard Broadcast
http://www.standardbroadcastband.com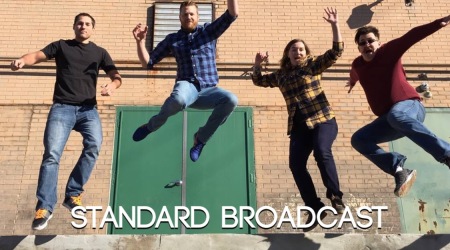 STANDARD BROADCAST is a Pittsburgh, PA based Indie Rock four-piece. Nathan Jay (piano and vocals), Leland Shaw (cello), Holly Fromlak (guitar) and Jeff Skalyo(drums). Formed in 2014, Nathan and Leland set out to create a more dynamic, catchy feel, without the traditional guitar/bass ensemble. After six months of songwriting, the guys went on to add Holly's poppy, almost hip-hop driven beats. Add to that Nathan's rhythmic piano skills and rock-inspired vocals, along with Leland's classically trained cello experience, and their music developed into an indie flare. Looking to expand their sound, they brought on Jeff as the new drummer in the summer of 2015 and Holly transitioned over to lead guitar, her preferred instrument. Check them out live around the Pittsburgh area!
Upcoming Events
3rd Annual Indie-Rockfest!!
Sat April 14, 2018
Please join us in supporting seven of the best independent music acts Pittsburgh has to offer! Everything from electronic, hip hop, and rock will be featured for an eclectic night of music you won't forget! Hosted by the extremely talented Jeremy Caywood! The show runs 4:00-11:00 on the Urban Ca...
KTP at Smiling Moose
Sun May 13, 2018
King Taylor Project joins HABATAT & Standard Broadcast @ The Smiling Moose for an evening of indie, soul, funk, and blues $10 door, come early and stay late it is going to be a great night of music! Standard Broadcast will hit the stage first with some real fun, dynamic, and catchy indie-rock King...