Tim Vitullo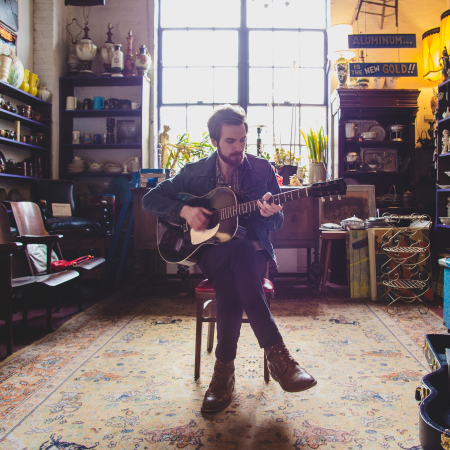 Alternative Blues Classic Rock Country Folk Indie Jazz Rock Singer Songwriter Other Americana Jam Band Album Rock
Tim Vitullo is a bit different. A promising singer, guitarist, and songwriter, Vitullo decided to return home to both Pittsburgh, PA and his blues influences to record "Josephine & Assorted Train Songs," his debut studio LP. This comes after poising himself as an exciting, young jazz artist in State College, PA with the release of "This is the Thing!" in 2012. With his latest statement, Vitullo mixes the best of his blues, rock, and pop influences to present a dozen examples of "adult alternative album rock." Songs like "Josephine" are concise and accessible with a smooth delivery and a sly sense of humor. Ballads "Letters" and "A Different Kind of Blue" are earnest experiments in confessional-style songwriting flanked by dense vocal and horn arrangements. Further, burners "Interstate Jesus," "Black & White Wonderful," and "Pretty Good" flash the guitar prowess that has been Vitullo's calling card since his earliest musical ventures. "Josephine & Assorted Train Songs" was produced, engineered, and mixed by singer/songwriter and producer Steven Foxbury in Pittsburgh, PA. Recorded entirely at Foxbury's Yellow Couch Studio, the LP is a home-grown display of some of the city's most promising young talents.
Upcoming Events
TR3 featuring Tim Reynolds at Hard Rock Cafe
Mon November 6, 2017
TR3 featuring Tim Reynolds with special guests Tim Vitullo & The Deep Vees Sun, November 5, 2017 Doors: 7:30 pm / Show: 8:00 pm Hard Rock Cafe Pittsburgh Pittsburgh, PA $15.00 - $17.00 Tickets go on sale Friday 8/25 at 10AM - http://ticketf.ly/2wAyy3F This event is minors under 21 with parent or l...
Cory Branan with Jared Hart - The Funhouse at Mr. Smalls
Wed November 8, 2017
Mr. Smalls Presents Cory Branan with special guests Jared Hart, Tim Vitullo & Bryan McQuaid Tue, November 7, 2017 Doors: 7:00 pm / Show: 8:00 pm The Funhouse at Mr. Smalls Pittsburgh, PA TICKETS: $12.00 - $15.00 Tickets on sale now - ticketfly.com! This event is 18+...